TH on Hitz.FM's Rate the Hitz
Sun May 01, 2011 10:36 pm by yindale
Hurricanes and Suns
, which is the most frequently-played TH song on Malaysian radio right now, is listed on "Rate The Hitz"!
What is "Rate The Hitz", you ask? Hitz.FM has lined up some unnamed song snippets, and you get to pick whether you love it or hate it, and how often you'd like to hear it on Hitz. You will even stand a chance to win some cool stuff!
You'll need to sign …
[
Full reading
]
Comments: 0
Tokio Hotel's TV special again !!
Sun Mar 27, 2011 12:13 pm by Tham Carmen
On April 2nd [ next Saturday ] .
There's a
Tokio Hotel TV special
again .
Its on 8TV , and channel 708 for Astro .
So Don't Forget To Watch It !

Comments: 0
8TV Malaysia TV
Fri Mar 25, 2011 11:09 pm by dianahTH
Comments: 0
grab your KLIK March issue
Wed Mar 23, 2011 11:44 pm by dianahTH
Comments: 0
Happy Tokio Hotel International Day 2011!
Sun Mar 06, 2011 6:42 pm by dianahTH
On the
16th of April
everywhere around the globe Tokio Hotel fans will come together to show their love and support for the band: it's the official Tokio Hotel International Day in 2011. In over 50 cities worldwide, events will be held where fans (described by singer Bill Kaulitz as "the best fans in the world") can join together for various activities. One of these events will be held …
[
Full reading
]
Comments: 0
Songwords of Hurricanes and Suns in Feb issue of Galaxie 2011
Sun Feb 20, 2011 1:08 pm by dianahTH
Comments: 4
Info on Humanoid City Tour screening by TH in Malaysia fb page
Thu Feb 17, 2011 8:38 pm by dianahTH

Right..sooo a few months back we suggested doing a screening of Humanoid City Tour concert in the cinema...so now we are going to try and make that happens
but in order to do that...we would really NEED everyone cooperation and support
more info here
…
[
Full reading
]
Comments: 0
a fan action by Tokio Hotel in Malaysia
Thu Jan 27, 2011 8:55 pm by dianahTH
Ok heres the thing, alieNation shoyuko and myself (alieNation_s) are making 2 different videos.
one is with ur message for TH (alieNation shoyuko)
u can either send a pic with u holding a board/or video urself with ur msg..like i love u..or come back soon
things... like phone no.&email will b ignored..or cut out...deadline send by FRIDAY,28 Jan
maximum time is 5 seconds...XD..sorry …
[
Full reading
]
Comments: 2
"Best Of" Deluxe is finally here!
Wed Jan 19, 2011 3:40 pm by yindale
It's a bit late, but the Deluxe version of Tokio Hotel's "Best Of" album is finally available in Malaysia!



I just got a call from Rock Corner, Mid Valley Megamall, where they have
just
received stock of the Deluxe version! They currently have 2 types of Deluxe: locally-produced, and imported from Germany. The local version is priced at 54.90RM and the …
[
Full reading
]
Comments: 19
Who is online?
In total there are
2
users online :: 0 Registered, 0 Hidden and 2 Guests
None
Most users ever online was
172
on Tue Mar 30, 2010 4:32 am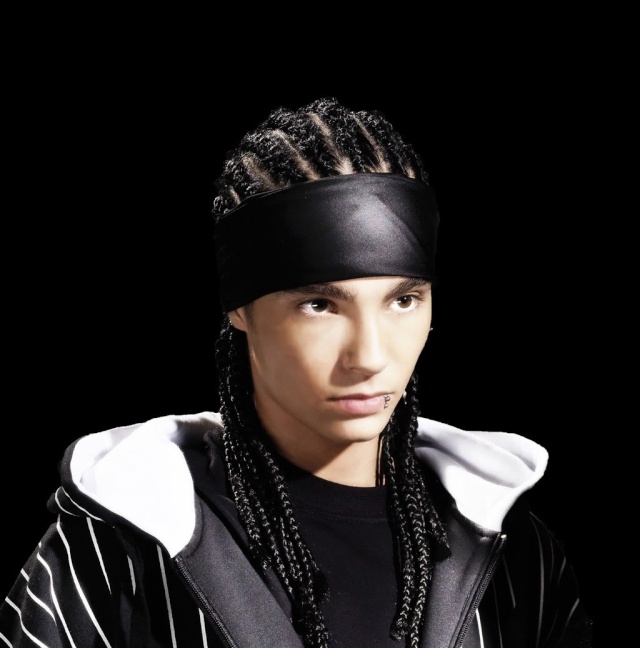 GUITARIST
Name:
Tom Kaulitz
Nickname:
"None, but you can call me Sexgod if you like."
Born:
September 1, 1989, Leipzig (Germany)
Residence:
Loitsche, Germany
Height:
1.88m
Hair Colour:
Originally dirty-blonde. He had them in dreadlocks since young. He now wears it in cornrows, dyed black.
Eye Colour:
Brown.
Siblings:
A twin brother named
Bill
who is born 10 minutes after him.
Mother:
Simone Kaulitz, a freelance tailor and artist.
Father:
Biological father, Jörg Kaulitz. Step-father, Gordon Trümper.
School:
He and his brother went to "web Individualschule" (individual web school) where they graduated and received a "DistancE-learning" Award
Favourite Subject in School:
Arts, but he hated school in general.
Hated Subjects in School
: Math, Physics
Hobbies:
Music, there's never been anything else.
His Idol:
He doesn't have one.
Favourite Music:
Samy Deluxe.
First album he ever bought:
Aerosmith.
First concert he's ever been to:
Samy Deluxe.
Pets:
A black labrador named Scotty that he got from a shelter, and reportedly a cat named Kasimir.
Piercings:
Lip, ears.
Tattoos:
None. (yet)
Motto:
"Big Cinema!" but he doesn't really find for one.
*Due to Tom's liking towards Gibson guitars, Tokio Hotel was
featured on the Gibson site
in 2008.
*In the upcoming "Humanoid" Tour, a rumour has been speculating that he might be playing the piano too!
*Since July 1, 2009, Tom has been blogging at the Tokio Hotel site and his entries show a keen mind with a wicked sense of humor and an eye for design, color and the unusual. And a big love of cars.

Check out his blog
here!
____________________________________________________________________
Tom quotes...
Question:
When was the last time you said "I love you" to someone?
"I don't think I ever said it yet.. wait, I have said it once: When I held my Gibson guitar for the first time… Je t'aime, Gibson."
"You know, every album, all of our songs are part of us and all the albums have a certain sound and I think Humanoid is the one with the most power so far. I mean, we didn't plan that in advance, it just happened. And "World Behind My Wall" is a very intimate song that describes part of our lives.
"We always say: Try being yourself and don't let anybody tell you what to do or to wear."
____________________________________________________________________
Other Facts about Tom you should know
He has around 70 caps.
Bill's cat has attacked Tom once, cause he throw chips at her ( have you heard about that he also did throw a caps on her)?.
He overstates a lot!
He eats all the time.
He hates Dr. Pepper (a drink).
He is very good on skating.
He sings very loud while taking a bath.
He has broken his arm twice.
He says that if he was "crazy" on money… he'd rather became a formel1 driver or a football player.
When Bill and Tom were 6 yars old, they took a part in a TV show called " Verruckt nach dir ".
He wrote the song "Schwarz".
He wrote the music of "Hilf mir Fliegen".
His fave animal is monkies.
Bill and Tom had braces.
He hates tight clothes.
He loves parties and drinking.
He thinks that Angelina Jolie is too hot.
He admit to not be romantic.
He loves to make fun of
Georg
.
____________________________________________________________________

That's Tom for you, Leute!



Source:Tokio Hotel America, Tokio Hotel Canada Forum, Tokio Hotel Rocks

---
Permissions in this forum:
You
cannot
reply to topics in this forum