TH on Hitz.FM's Rate the Hitz
Sun May 01, 2011 10:36 pm by yindale
Hurricanes and Suns
, which is the most frequently-played TH song on Malaysian radio right now, is listed on "Rate The Hitz"!
What is "Rate The Hitz", you ask? Hitz.FM has lined up some unnamed song snippets, and you get to pick whether you love it or hate it, and how often you'd like to hear it on Hitz. You will even stand a chance to win some cool stuff!
You'll need to sign …
[
Full reading
]
Comments: 0
Tokio Hotel's TV special again !!
Sun Mar 27, 2011 12:13 pm by Tham Carmen
On April 2nd [ next Saturday ] .
There's a
Tokio Hotel TV special
again .
Its on 8TV , and channel 708 for Astro .
So Don't Forget To Watch It !

Comments: 0
8TV Malaysia TV
Fri Mar 25, 2011 11:09 pm by dianahTH
Comments: 0
grab your KLIK March issue
Wed Mar 23, 2011 11:44 pm by dianahTH
Comments: 0
Happy Tokio Hotel International Day 2011!
Sun Mar 06, 2011 6:42 pm by dianahTH
On the
16th of April
everywhere around the globe Tokio Hotel fans will come together to show their love and support for the band: it's the official Tokio Hotel International Day in 2011. In over 50 cities worldwide, events will be held where fans (described by singer Bill Kaulitz as "the best fans in the world") can join together for various activities. One of these events will be held …
[
Full reading
]
Comments: 0
Songwords of Hurricanes and Suns in Feb issue of Galaxie 2011
Sun Feb 20, 2011 1:08 pm by dianahTH
Comments: 4
Info on Humanoid City Tour screening by TH in Malaysia fb page
Thu Feb 17, 2011 8:38 pm by dianahTH

Right..sooo a few months back we suggested doing a screening of Humanoid City Tour concert in the cinema...so now we are going to try and make that happens
but in order to do that...we would really NEED everyone cooperation and support
more info here
…
[
Full reading
]
Comments: 0
a fan action by Tokio Hotel in Malaysia
Thu Jan 27, 2011 8:55 pm by dianahTH
Ok heres the thing, alieNation shoyuko and myself (alieNation_s) are making 2 different videos.
one is with ur message for TH (alieNation shoyuko)
u can either send a pic with u holding a board/or video urself with ur msg..like i love u..or come back soon
things... like phone no.&email will b ignored..or cut out...deadline send by FRIDAY,28 Jan
maximum time is 5 seconds...XD..sorry …
[
Full reading
]
Comments: 2
"Best Of" Deluxe is finally here!
Wed Jan 19, 2011 3:40 pm by yindale
It's a bit late, but the Deluxe version of Tokio Hotel's "Best Of" album is finally available in Malaysia!



I just got a call from Rock Corner, Mid Valley Megamall, where they have
just
received stock of the Deluxe version! They currently have 2 types of Deluxe: locally-produced, and imported from Germany. The local version is priced at 54.90RM and the …
[
Full reading
]
Comments: 19
Who is online?
In total there are
2
users online :: 0 Registered, 0 Hidden and 2 Guests
None
Most users ever online was
172
on Tue Mar 30, 2010 4:32 am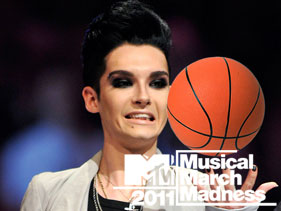 It's MTV's second annual Musical March Madness! MTV News took the 64 biggest names in rock, split them up into four regions, assigned them seeds and puts them up against one another in a single-elimination series of match-ups in a winner-take-all contest. We're leaving it to you to decide an actual champ in this field of 64, so over the next few weeks, fan voting will determine who will emerge as this year's champion. It's all about the fans, and the artist with the most passionate fan base will score the awesome Musical March Madness trophy!
The round of 32 has been intense thus far, and it's only about to get more intense. With two match-ups already presented in the South bracket, this third one may be the most intriguing if only because it features two upset-minded underdogs.
Voting for all second round match-ups will close on Sunday, March 27 at midnight. As always, you can follow all the voting here.
(11) Adele vs. (14) Tokio Hotel
In the only second round pairing that put together two upset victors from round one, the upset minded Adele (who beat back Kid Rock to advance) takes on the rabid fan base of Tokio Hotel (who bested Mumford & Sons in round one). No matter who wins, the one left standing could end up being the lowest seed in the Sweet 16. Which artist will keep wearing the glass slipper? Weigh in with your VOTE!!
http://newsroom.mtv.com/2011/03/24/march-madness-tokio-hotel-adele/
Last edited by dianahTH on Wed Mar 30, 2011 7:45 pm; edited 1 time in total
(2) Muse vs. (14) Tokio Hotel
Muse squeaked by Cobra Starship in the first round and then made quick work of Weezer in the second, which now puts them in the unenviable position of taking on Tokio Hotel. Last year's big Cinderella team certainly seems to be wearing the glass slipper again, as they have bested Mumford & Sons and Adele despite their lower ranking. Will they continue their push toward the championship, or will Muse fans continue to galvanize and help their favorite band stand tall? Vote and find out!
Current:Tokio Hotel 53% winning over MUSE 47%
http://newsroom.mtv.com/2011/03/28/march-madness-muse-tokio-hotel/
Vote your favourite champion here:
http://newsroom.mtv.com/2011/03/30/march-madness-paramore-tokio-hotel/#pd_a_4815809


---
Permissions in this forum:
You
cannot
reply to topics in this forum