TH on Hitz.FM's Rate the Hitz
Sun May 01, 2011 10:36 pm by yindale
Hurricanes and Suns
, which is the most frequently-played TH song on Malaysian radio right now, is listed on "Rate The Hitz"!
What is "Rate The Hitz", you ask? Hitz.FM has lined up some unnamed song snippets, and you get to pick whether you love it or hate it, and how often you'd like to hear it on Hitz. You will even stand a chance to win some cool stuff!
You'll need to sign …
[
Full reading
]
Comments: 0
Tokio Hotel's TV special again !!
Sun Mar 27, 2011 12:13 pm by Tham Carmen
On April 2nd [ next Saturday ] .
There's a
Tokio Hotel TV special
again .
Its on 8TV , and channel 708 for Astro .
So Don't Forget To Watch It !

Comments: 0
8TV Malaysia TV
Fri Mar 25, 2011 11:09 pm by dianahTH
Comments: 0
grab your KLIK March issue
Wed Mar 23, 2011 11:44 pm by dianahTH
Comments: 0
Happy Tokio Hotel International Day 2011!
Sun Mar 06, 2011 6:42 pm by dianahTH
On the
16th of April
everywhere around the globe Tokio Hotel fans will come together to show their love and support for the band: it's the official Tokio Hotel International Day in 2011. In over 50 cities worldwide, events will be held where fans (described by singer Bill Kaulitz as "the best fans in the world") can join together for various activities. One of these events will be held …
[
Full reading
]
Comments: 0
Songwords of Hurricanes and Suns in Feb issue of Galaxie 2011
Sun Feb 20, 2011 1:08 pm by dianahTH
Comments: 4
Info on Humanoid City Tour screening by TH in Malaysia fb page
Thu Feb 17, 2011 8:38 pm by dianahTH

Right..sooo a few months back we suggested doing a screening of Humanoid City Tour concert in the cinema...so now we are going to try and make that happens
but in order to do that...we would really NEED everyone cooperation and support
more info here
…
[
Full reading
]
Comments: 0
a fan action by Tokio Hotel in Malaysia
Thu Jan 27, 2011 8:55 pm by dianahTH
Ok heres the thing, alieNation shoyuko and myself (alieNation_s) are making 2 different videos.
one is with ur message for TH (alieNation shoyuko)
u can either send a pic with u holding a board/or video urself with ur msg..like i love u..or come back soon
things... like phone no.&email will b ignored..or cut out...deadline send by FRIDAY,28 Jan
maximum time is 5 seconds...XD..sorry …
[
Full reading
]
Comments: 2
"Best Of" Deluxe is finally here!
Wed Jan 19, 2011 3:40 pm by yindale
It's a bit late, but the Deluxe version of Tokio Hotel's "Best Of" album is finally available in Malaysia!



I just got a call from Rock Corner, Mid Valley Megamall, where they have
just
received stock of the Deluxe version! They currently have 2 types of Deluxe: locally-produced, and imported from Germany. The local version is priced at 54.90RM and the …
[
Full reading
]
Comments: 19
Who is online?
In total there are
3
users online :: 0 Registered, 0 Hidden and 3 Guests
None
Most users ever online was
172
on Tue Mar 30, 2010 4:32 am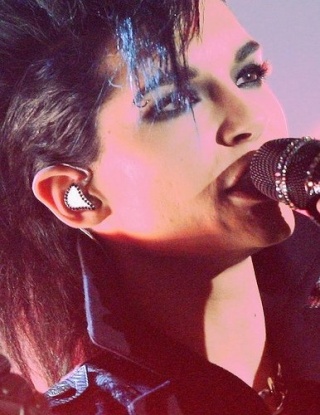 SINGER
Name:
Bill Kaulitz
Nickname:
None; says that his name is as short as it is
Date of birth:
1. September 1989, Leipzig, Germany
Residence:
Loitsche, Germany; and a temporary home near their recording studio in Hamburg
Height:
190 cm (2 cm taller than Tom, he adds gleefully)
Hair Colour:
Originally a dirty-blonde; dyed black, wears it in a fauxhawk now.
Eye Colour:
Brown
Siblings:
Tom
who is born 10 minutes before him
Mother:
Simone Kaulitz, freelance tailor and artist
Father:
Biological father, Jörg Kaulitz, a truck-driver. Step-father, Gordon Trümper, a former member of the band Fatun
School:
He and his brother went to "web Individualschule" (individual web school) where they graduated and received a "DistancE-learning" Award
Hobbies:
Making music
His Idol:
He doesn't have one. He always wanted to be his own person and not follow the rules and regulations of someone else, but there are, nonetheless, people who have subconsciously influenced him.
Favourite Music:
Greenday, Nena, Coldplay, Keane, David Bowie
First album he ever bought:
Nena's
First concert he's ever been to:
Nena's
Pets:
A black Labrador named Scotty that he got from a shelter a few years ago, and reportedly a cat named Kasimir.
Piercings:
Brow, tongue, nipple
Tattoos:
Neck (TH logo), hip (star), left forearm (Freiheit 89) left side of stomach (We never stop screaming; We return to the origin)

Motto:
Leb die Sekunde! (Live the second!)
Greatest Wish:
Freedom to no end and a life filled with music until eternity
Favourite part of TH:
Performing new songs I've just written live
Favourite TH memories so far:
the first time you do something is brilliant- in the studio, playing a gig, appearing on TV, first tour
Goals for TH:
We're always setting new goals. as soon as we achieve one, we give ourselves another.
*Bill has recently opened up his gallery. Check it out
here!
It definitely tells us so much about him.
_______________________________________________________________

Bill about his dream girl
Height:
10 cm shorter than him since he doesn't like girls taller than him
Hair colour:
dark hair, brown or black.
Style:
Whatever, doesn't really matter, but she has to have the style which suits her very much, and I think it should be manifold.
Character:
Uncontrollable!
Most important for her:
True love
Boobs:
Doesn't really matter
Arms:
Soft as the baby's
Body:
Not too skinny, and not too heavy.
Music she listens to has to be:
Not important
Where she lives:
Not in Germany! It's mostly better for me if she doesn't live here.
Fan or not:
Hmmm, I don't know, the most important thing is that she loves me, and not my money
_______________________________________________________________
More things about Bill

Tom Kaulitz
Of all the people in the world, the closest person to him is his twin, ten minutes older brother Tom.
Black color
His favourite colours are red and orange. But he loves black the most. He is naturally dark blonde but but we definitely can't imagine him like one!
Food
Pizza and pastas! Bill can eat them the whole day. But he also has a weakness for hamburgers and chips! He always has a Big Mac and vanilla shake in McDonald's. He is lucky that we don't see him with them.
Dubbing
Together with his favourite German singer Nena, he was in the studio for a long time and did dubbing in the animated movie Arthur and the Minimoys.
Sea and beaches
My dream holiday? Sun, palms and sea! The best would be enjoy this and live in a little house on the beach.
Ice Tea
Bill loves ice tea at the moment. He is annoyed at energy drinks.
Monkeys
His favorite animal is the monkey.
Rock Style
Leather jacket, tight jeans a T-shirts with rocks motives. You can see Bill in this style a lot.
Olsen's Twins
His secret wish is to meet another famous couple of twins: the Olsen twins. To him, they are really cool and sweet.
Child's dreams
When he was a child he wanted to be a witch or singer. Haters also say that thanks to Tokio Hotel, he has both.
True love
When you ask Bill on what he really believes in, he will answer really romantically… True love.
Chamomile tea
Brr, you probably say. But for Bill this is the tea that's a really important part of his life. It helps him on his vocal chords.
Apples
He loves apples! But not for eating, because he is allergic to them just like towards wasps.. But he loves notebooks from Apple and everything else like for example: iPhone, iPod etc. Thanks to iBook he can read e-mails from his fans and listen to music on long ways.
_______________________________________________________________
Bill Facts - Did you know that...
…Bill sometimes forgets to brush his teeth at night?
…Bill is afraid that he and Tom will get in a big fight and never speak to each other again?
…the mark on Bill's hairspray is "Kyrell"?
…Bill's favourite eyeliner is Maybelline?
…Bill whistles when he's in the shower?
…Bill is allergic to apples and mosquito bites?
…his favorite color is orange?
…he hates his feet?
…he hates crying fans?
…Bill would sleep until 6pm if he could?
…Bill got his fist kiss when he was 9 years old?
…he is right-handed?
…he doesn't wear makeup when he's at home, and alone?
…Bill is very superstitious?
…Bill always has a teddy bear with him at TH's concerts?
…he hates potatoes and broccoli, and once he eat a whole plate of broccoli and threw up afterward?
…he hates it when girls bites their nails, but when he's nervous he does it himself?
…he is afraid of insects, especially spiders?
…during the Echo Awards 2007 Bill got stopped when he wanted to go to the men's room because the watchman thought he was a girl?
…Bill only sleeps in his underpants?
…When he makes up a song he sings it to Tom, so he can play it for him?
…Bill doesn't want to sing before 8am, because he thinks that his voice has not woke up yet?
…He doesn't like liars and unreliable people?
…He want one more tattoo, that's placed below the one he has on his hip?
…If somebody tells him that some of his fans are sick, he can think about it for days?
…He and Tom shared their room when they were younger?
…When he was 6 years old he had to look after a rabbit, but it ran away?
…He listens to "White Flag" when he has to write songs?
…Bill is closer to Tom, than his mother (Simone)?
…When he was a little boy, he wanted to be a wizard?
…he think that it's strenuous to reach the high notes?
…he has a T-mobile Sidekick II?
…He doesn't want his girlfriend to be taller than himself?
…Bill loves the yellow "Maoam's" ?
…Once he spent 17.000€ in a Diesel store, in 30 minutes?
…He's afraid of seaweed?
…He loves girls that screams to concerts?
…His granny calls him "Macky"?
…He feels guilty when he has one-night-stands?
…Bill likes to sew?
…He had stage fright before?
…He doesn't like it when fans dress like him?
…He spends his money very quickly?
…He doesn't do his own laundry?
…He doesn't want to get married - ever?
…He thinks that he and Tom are bad at breaking up with girls?
…At McDonald's, he always orders a Big Mac, 6 nuggets and a vanilla milkshake?
…His favorite animal is the monkey?
…He think that Georg and Tom talk vulgar?
…He prefers a girl with a good ass than a girl with big breasts?
…He knows how to play the keyboard?
_______________________________________________________________
That's Bill for you, Leute!



Source:Tokio Hotel America, Tokio Hotel Canada Forum, Tokio Hotel Rocks
Full Name: Bill Kaulitz Trümper
Birthday: 1st September 1989
Age: 21Hometown: Leipzig, Germany
Height: 188cm
Weight: 52kg
Color of hair: Black (The color of his real hair is dark brown)
Color of eyes: Brown
Favorite food: Pizza, pasta, in the past I like fast food but now I'm a vegetarian.
Favorite drink: Cola, strawberry milk, peppermint tea.
Family member: Mum--- Simone works in a free tailor's shop.
Biological Dad ---Jörg Kaulitz is a truck driver.
Stepfather--- Gordon Trümper is a musician.
Identical twin brother ---Tom Kaulitz.
Favorite bands: Green Day,Depeche Mode, David Bowie,Naparte,Aerosmith,Kings Of Leon

After Bill's parents divorced at his age of 7, Bill and Tom were raised by his mother. Gradually influenced by his mother's new boyfriend who is a guitarist, Bill got interested in music ( later on his mother married Gordon). When Bill was 10 years old, he founded a band with the help of his stepfather. He began to play the song that he wrote by himself in a club. During his teenage days, he was considered as a fancy dressing boy among his classmates in his hometown, because he wore the suits and clotheses that he made manually. In addition, he always argued with some one else. Soon after, Gustav and Georg joined in their band and they worked very hard under the name of Devilish. However, there were rarely good performances. Fortunately, Bill participated in a show program called Star Search. In the show, he sung the "It's raining man" of Geri Halliwell, and he lost in the quarter-final, which drew the attention of a famous producer. He grasped the opportunity to be a super star and finally the band signed a contract with Universal Music Company in 2005. Then after they made their debuts, Tokio Hotel created a big sensation not only in Germany but also all over the world. Because of too many trips and shows, Bill had to quit his school at the age of 15 and continued studying through tutors and internet. In 2007 he graduated in Koln (notes: school, between junior high school and senior high school). By the way, Bill's average score in 6 grades was 1.8, which was a very high score (opposite to Japanese score system, 1 is the highest).
Because of Bill's fancy dressing, he was chose as the best dresser in German GQ magazine. Besides this he also established his fashion pioneer place. Tokio Hotel attended the Italian fashion brand "DSQUARED2" FW fashion show, did a photo shoot with Karl Lagerfeld for VOGUE Germany 30th anniversary issue and dubbed an animated film named "Arthur und die Minimoys". Talking about Bill's girlfriend issue that his fans are interested in, now there is no certain answer, which seems like Bill is not that popular among girls. In the past 7 years, Bill didn't have a girlfriend and till now he has been looking for.

Moderator









Similar topics
---
Permissions in this forum:
You
cannot
reply to topics in this forum