TH on Hitz.FM's Rate the Hitz
Sun May 01, 2011 10:36 pm by yindale
Hurricanes and Suns
, which is the most frequently-played TH song on Malaysian radio right now, is listed on "Rate The Hitz"!
What is "Rate The Hitz", you ask? Hitz.FM has lined up some unnamed song snippets, and you get to pick whether you love it or hate it, and how often you'd like to hear it on Hitz. You will even stand a chance to win some cool stuff!
You'll need to sign …
[
Full reading
]
Comments: 0
Tokio Hotel's TV special again !!
Sun Mar 27, 2011 12:13 pm by Tham Carmen
On April 2nd [ next Saturday ] .
There's a
Tokio Hotel TV special
again .
Its on 8TV , and channel 708 for Astro .
So Don't Forget To Watch It !

Comments: 0
8TV Malaysia TV
Fri Mar 25, 2011 11:09 pm by dianahTH
Comments: 0
grab your KLIK March issue
Wed Mar 23, 2011 11:44 pm by dianahTH
Comments: 0
Happy Tokio Hotel International Day 2011!
Sun Mar 06, 2011 6:42 pm by dianahTH
On the
16th of April
everywhere around the globe Tokio Hotel fans will come together to show their love and support for the band: it's the official Tokio Hotel International Day in 2011. In over 50 cities worldwide, events will be held where fans (described by singer Bill Kaulitz as "the best fans in the world") can join together for various activities. One of these events will be held …
[
Full reading
]
Comments: 0
Songwords of Hurricanes and Suns in Feb issue of Galaxie 2011
Sun Feb 20, 2011 1:08 pm by dianahTH
Comments: 4
Info on Humanoid City Tour screening by TH in Malaysia fb page
Thu Feb 17, 2011 8:38 pm by dianahTH

Right..sooo a few months back we suggested doing a screening of Humanoid City Tour concert in the cinema...so now we are going to try and make that happens
but in order to do that...we would really NEED everyone cooperation and support
more info here
…
[
Full reading
]
Comments: 0
a fan action by Tokio Hotel in Malaysia
Thu Jan 27, 2011 8:55 pm by dianahTH
Ok heres the thing, alieNation shoyuko and myself (alieNation_s) are making 2 different videos.
one is with ur message for TH (alieNation shoyuko)
u can either send a pic with u holding a board/or video urself with ur msg..like i love u..or come back soon
things... like phone no.&email will b ignored..or cut out...deadline send by FRIDAY,28 Jan
maximum time is 5 seconds...XD..sorry …
[
Full reading
]
Comments: 2
"Best Of" Deluxe is finally here!
Wed Jan 19, 2011 3:40 pm by yindale
It's a bit late, but the Deluxe version of Tokio Hotel's "Best Of" album is finally available in Malaysia!



I just got a call from Rock Corner, Mid Valley Megamall, where they have
just
received stock of the Deluxe version! They currently have 2 types of Deluxe: locally-produced, and imported from Germany. The local version is priced at 54.90RM and the …
[
Full reading
]
Comments: 19
Who is online?
In total there is
1
user online :: 0 Registered, 0 Hidden and 1 Guest
None
Most users ever online was
172
on Tue Mar 30, 2010 4:32 am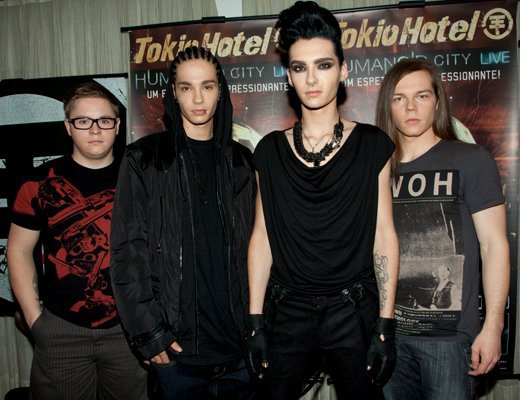 OMG! Today the day was though here at the redaction. In the early morning, we sent [our crew] to the centre of São Paulo, where there would be a press conference with Tokio Hotel. The band, who arrived at our country for an only presentation, received the journalists and photographers to talk about the show, the new DVD, the Humanoid City Live and the career.
The interview took a little bit to start. But, after staying face to face with the guys, we forgot about the delay. We tweeted during the whole conversation. If you didn't saw it, check it now about the cool stuff they talked about:
Tokio Hotel around the world – Bill told that what he finds most impressive is the way the fans found their musics out around the planet, mostly when the subject is Internet.
Tokio Family – Again Bill, as speaker from the band, explained they have a special story in Germany. But still, all countries are important. This is the Tokio Hotel Family.
Show in Brazil – One of the band's goals was to give shows in South America. And, thats why, they are really happy and excited to feel the energy of people in tonight's presentation.
Tom + Bill at USA – We asked if the twins trip to the USA may cause some change in the next album. They, cute [as they are], told us that nothing will be different, once Humanoid was also produced in Los Angeles. Telling the truth, the trip was only made to make the producing work easily and make everything more comfortable.
Camping fans – Yes!Teen also asked if they knew fans were camping outside of Via Funchal. All of them saw the videos on the Internet and found that was really incredible. We told them that @naakaulitz tweeted to us that she traveled 25 hours fro Vitória da Conquista until São Paulo by bus just to see them. Do you know what did Bill said? "Oh my god! I traveled 30 hours by plain to get here and I almost didn't stand it… That's really incredible! Its cool to know stories about fans so much dedicated."
Bill #seduction - The singer confessed that he doesn't find himself so that beautiful as fans say he is, but he is happy about to know about that. At this time, Tom also added: "It's all bullshit!" All of them laughed…
Composition process – Bill told that, when the inspiration comes, he records something on his cellphone or writes it. He revealed that he even sings on the shower. #lout-laugh To tell the truth, the creative process is never the same. The boys get together in the new studio and let the inspiration come, no rush. Sometimes, they don't even play… Just keep eating pizza and playing table tennis.
Bill's look – Tom, as soon as he listened to the question, answered before Bill: "He takes 2 minutes to get dressed, not 5 hours…", joked him. Bill, to say the truth, explained that this look became natural in his life. He wakes up and just get dressed [this way] – doesn't take hours picking his clotheses. But revealed that his new haistyle is much more easier [to take care of] than the other. To the interview, he said he took 5 minutes to get it ready. #I-laughed
We had a seat on the place and made a list of what we have seen. Do you want to know?
- Bill got into the room with a glass of Coke (ice + lemon) and shared with his brother. They both drink from the same glass!
- Tom wanted water but his bottle was made of glass and needed a corkscrew. Finding it hard when tried to open it, a photographer ofered him some help. #poor-him
- Georg and Tom stood there making little jokes with gestures that we can't reproduce here.
- In the end of the press conference, Bill got stuck on his chair due to his suspenders. #loud-laugh
- To answer to our questions, Bill looked riiiight into our eyes and ended with a smile. #we-died
- As soon as the photoshooting ended, everyone left the room, but Bill stood there showing his tattoo on his arm – the one which says "Freiheit 89″ (Freedom 89, in German).
Source: yesteen.uol.com
Translation by aniinhas @ THus
Moderator









Similar topics
---
Permissions in this forum:
You
cannot
reply to topics in this forum