TH on Hitz.FM's Rate the Hitz
Sun May 01, 2011 10:36 pm by yindale
Hurricanes and Suns
, which is the most frequently-played TH song on Malaysian radio right now, is listed on "Rate The Hitz"!
What is "Rate The Hitz", you ask? Hitz.FM has lined up some unnamed song snippets, and you get to pick whether you love it or hate it, and how often you'd like to hear it on Hitz. You will even stand a chance to win some cool stuff!
You'll need to sign …
[
Full reading
]
Comments: 0
Tokio Hotel's TV special again !!
Sun Mar 27, 2011 12:13 pm by Tham Carmen
On April 2nd [ next Saturday ] .
There's a
Tokio Hotel TV special
again .
Its on 8TV , and channel 708 for Astro .
So Don't Forget To Watch It !

Comments: 0
8TV Malaysia TV
Fri Mar 25, 2011 11:09 pm by dianahTH
Comments: 0
grab your KLIK March issue
Wed Mar 23, 2011 11:44 pm by dianahTH
Comments: 0
Happy Tokio Hotel International Day 2011!
Sun Mar 06, 2011 6:42 pm by dianahTH
On the
16th of April
everywhere around the globe Tokio Hotel fans will come together to show their love and support for the band: it's the official Tokio Hotel International Day in 2011. In over 50 cities worldwide, events will be held where fans (described by singer Bill Kaulitz as "the best fans in the world") can join together for various activities. One of these events will be held …
[
Full reading
]
Comments: 0
Songwords of Hurricanes and Suns in Feb issue of Galaxie 2011
Sun Feb 20, 2011 1:08 pm by dianahTH
Comments: 4
Info on Humanoid City Tour screening by TH in Malaysia fb page
Thu Feb 17, 2011 8:38 pm by dianahTH

Right..sooo a few months back we suggested doing a screening of Humanoid City Tour concert in the cinema...so now we are going to try and make that happens
but in order to do that...we would really NEED everyone cooperation and support
more info here
…
[
Full reading
]
Comments: 0
a fan action by Tokio Hotel in Malaysia
Thu Jan 27, 2011 8:55 pm by dianahTH
Ok heres the thing, alieNation shoyuko and myself (alieNation_s) are making 2 different videos.
one is with ur message for TH (alieNation shoyuko)
u can either send a pic with u holding a board/or video urself with ur msg..like i love u..or come back soon
things... like phone no.&email will b ignored..or cut out...deadline send by FRIDAY,28 Jan
maximum time is 5 seconds...XD..sorry …
[
Full reading
]
Comments: 2
"Best Of" Deluxe is finally here!
Wed Jan 19, 2011 3:40 pm by yindale
It's a bit late, but the Deluxe version of Tokio Hotel's "Best Of" album is finally available in Malaysia!



I just got a call from Rock Corner, Mid Valley Megamall, where they have
just
received stock of the Deluxe version! They currently have 2 types of Deluxe: locally-produced, and imported from Germany. The local version is priced at 54.90RM and the …
[
Full reading
]
Comments: 19
Who is online?
In total there is
1
user online :: 0 Registered, 0 Hidden and 1 Guest
None
Most users ever online was
172
on Tue Mar 30, 2010 4:32 am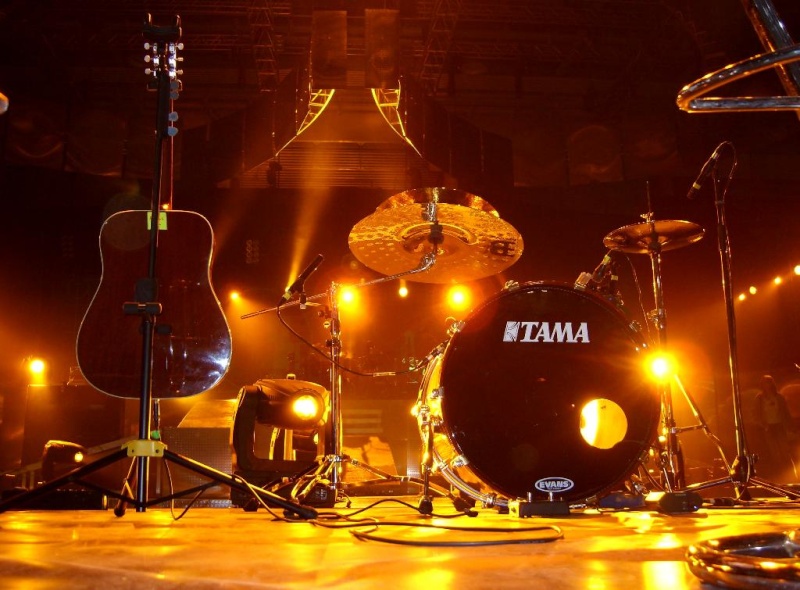 Logistics makes it possible for us to go on tour
"We tour through the world"
They are members of one of the most successful German bands. Bill and Tom Kaulitz from Tokio Hotel. The twins perform with their band mates Georg and Gustav worldwide. At that they experience a lot – also in the matter of traffic and logistics.
planet-beruf: For your performances you're on tour a lot. What do you take with you?
Tom: Mainly we have clothes and instruments. But it depends, how long we're away from home. On the latest tour we were on the road three months straight and everyone of us had about ten suitcases. So, on long travels we take along up to 40 suitcases. Bill always has the most suitcases!
planet-beruf: When you're on tour, you're almost all the time together. How does living together work in such little space?
Bill: Well, on the latest tour it worked surprisingly well. I had expected that we annoy each other way more. But it only came to that at the last show in Paris. I think it helped that we had two tour busses and could drive separately!
planet-beruf: Travelling on the tour bus is certainly fun! Could you imagine to drive such a bus on your own, as a professional driver maybe?
Tom: I think everyone is destined for a different job. We've always wanted to only make music, others love to drive long distances, like our bus drivers. They do their job definitely very well!
planet-beruf: How are your instruments transported?
Tom: Everything gets stowed in purpose-built cases. Depending on the distance, they whether are transported with a plane or on a truck. If we go to America or Asia, then they sometimes get transported in containers on a ship as well.
planet-beruf: For your "Humanoid Tour 2010" you had an impressing show. How does the equipment get transported to the cities you play a concert in?
Tom: The tour is extremely complex. A forwarding agency which is only in charge for tours, planned and implemented it. The parts of the stage are divided on 12 trucks and on the road in whole Europe. Everything is planned to the minute and when the trucks are stuck in a traffic jam once, time is getting short. The stage gets build up every morning at 7 in two different parts of the venue and then they out it together. Directly after the end of the show they take down the stage and everything starts again…
Bill: Depending to the requirements in the venue, the technicians take about eight to ten hours to build up the show. A stiff piece of work and a real master stroke!
-Tokio Hotel in Malaysia-
Last edited by dianahTH on Mon Nov 29, 2010 2:23 pm; edited 1 time in total
_________________________________________________________________
Moderator







Thank goodness for Tokio Hotel's bus drivers and technicians and the rest of their logistics team... They made the Humanoid City tour possible!

_________________________________________________________________
I WOULD LIKE TO HAVE TOKIO HOTEL IN MALAYSIA. AGAIN. PLEASE.
Click here to raise your voice & prove that Malaysia loves those TH boys!
Administrator







Absolutely amazing!They're the 'Aliens' who reached Planet Earth,invaded and built HUMANOID CITY.we're all trapped and we can't get out because we don't want to.Its just too much fun!!


Moderator








---
Permissions in this forum:
You
cannot
reply to topics in this forum