TH on Hitz.FM's Rate the Hitz
Sun May 01, 2011 10:36 pm by yindale
Hurricanes and Suns
, which is the most frequently-played TH song on Malaysian radio right now, is listed on "Rate The Hitz"!
What is "Rate The Hitz", you ask? Hitz.FM has lined up some unnamed song snippets, and you get to pick whether you love it or hate it, and how often you'd like to hear it on Hitz. You will even stand a chance to win some cool stuff!
You'll need to sign …
[
Full reading
]
Comments: 0
Tokio Hotel's TV special again !!
Sun Mar 27, 2011 12:13 pm by Tham Carmen
On April 2nd [ next Saturday ] .
There's a
Tokio Hotel TV special
again .
Its on 8TV , and channel 708 for Astro .
So Don't Forget To Watch It !

Comments: 0
8TV Malaysia TV
Fri Mar 25, 2011 11:09 pm by dianahTH
Comments: 0
grab your KLIK March issue
Wed Mar 23, 2011 11:44 pm by dianahTH
Comments: 0
Happy Tokio Hotel International Day 2011!
Sun Mar 06, 2011 6:42 pm by dianahTH
On the
16th of April
everywhere around the globe Tokio Hotel fans will come together to show their love and support for the band: it's the official Tokio Hotel International Day in 2011. In over 50 cities worldwide, events will be held where fans (described by singer Bill Kaulitz as "the best fans in the world") can join together for various activities. One of these events will be held …
[
Full reading
]
Comments: 0
Songwords of Hurricanes and Suns in Feb issue of Galaxie 2011
Sun Feb 20, 2011 1:08 pm by dianahTH
Comments: 4
Info on Humanoid City Tour screening by TH in Malaysia fb page
Thu Feb 17, 2011 8:38 pm by dianahTH

Right..sooo a few months back we suggested doing a screening of Humanoid City Tour concert in the cinema...so now we are going to try and make that happens
but in order to do that...we would really NEED everyone cooperation and support
more info here
…
[
Full reading
]
Comments: 0
a fan action by Tokio Hotel in Malaysia
Thu Jan 27, 2011 8:55 pm by dianahTH
Ok heres the thing, alieNation shoyuko and myself (alieNation_s) are making 2 different videos.
one is with ur message for TH (alieNation shoyuko)
u can either send a pic with u holding a board/or video urself with ur msg..like i love u..or come back soon
things... like phone no.&email will b ignored..or cut out...deadline send by FRIDAY,28 Jan
maximum time is 5 seconds...XD..sorry …
[
Full reading
]
Comments: 2
"Best Of" Deluxe is finally here!
Wed Jan 19, 2011 3:40 pm by yindale
It's a bit late, but the Deluxe version of Tokio Hotel's "Best Of" album is finally available in Malaysia!



I just got a call from Rock Corner, Mid Valley Megamall, where they have
just
received stock of the Deluxe version! They currently have 2 types of Deluxe: locally-produced, and imported from Germany. The local version is priced at 54.90RM and the …
[
Full reading
]
Comments: 19
Who is online?
In total there are
2
users online :: 0 Registered, 0 Hidden and 2 Guests
None
Most users ever online was
172
on Tue Mar 30, 2010 4:32 am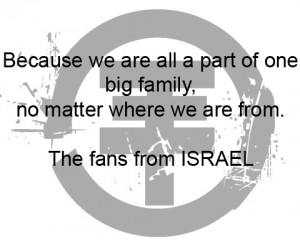 For those who do not remember, this project is a video of thanks to the band from each country.
All languages should be involved in every video, except the language of your country.
Each fan has to make a short video (about 5 seconds), which thank Tokio Hotel in the language you have been assigned. Be original, the fact is that you are speaking in a language that is unfamiliar to you, and all countries will do likewise.
Try and greet to the band as many things as you can. When making the video, trying to show something that is connected to your country, because they are going to mix the languages we do not want to forget from which country you are.
When you translate your thanks, make sure you have the correct translation in English. We say this because the managers of each country will have to caption each video in English (international language), and surely it will be easier for them if you give them the translation done.
At the end of each video will be written this sentence: "Because We Are All a part of one big family, no matter from Where We Are. The fans from + the name of your country "
When all countries end up and publish the video, we will edit all the videos together. Then all will be published and will hit the official website of Tokio Hotel with the link to the video.
This is the Languages' List:
Israel – Hebrew.
America – English.
Argentina, Spain, Guatemala, Peru, Colombia – Spanish.
Brazil – Portuguese.
Albania – Albanian.
Belarus – Belarusian.
Malaysia – Malay.
Canada – English and French.
Germany – German.
Ukraine – Ukrainian.
Greece – Greek.
Algeria, Tunisia, Morocco – Arabic.
* If your country is not in the list of language-country is because during the registration period any fan club, street team or person from your country offered to be the responsable. If you want to be that contact with the Israel Fan Club (host of this Fan Action) to add you to the project. E-mail contact:
me-i-think@hotmail.com
Example: The fans from Israel will greet to the ban in the languages listed but no in Hebrew.
As we do not want any misunderstanding, the managers / heads of each country will be in charge of organizing this fan action and assign a language to each fan, and we will ensure that each language involved like another.
Remembering the rules:
Each video should be approximately 5 seconds.
You can not say inappropriate things about the language or the band asking for things, etc. Video with silly phrases like "marry me?" or assigned to another language will not be accepted.
You can be dressed with clothes of the band.
Try shooting in HQ (High Definition) so we can hear you well.
Be creative.
At the end of the video, must have a photo of the Tokio Hotel symbol with the phrase "Because We Are All a part of one big family, no matter from Where We Are. The fans from + "the name of your country". "This picture would look like the photo above this post Israel.
The deadline to submit your video to your country is responsible for the February 15, 2011.
Moderator







For those fans in Malaysia who wish to participate in TH Israel's video fan action, you can send in your video links to us at
mytokiohoteladmin@gmail.com
. Using a site like
sendspace.com
will allow you to upload your video file, and it will provide you with a link. Email that link to us and we will take care of the rest.

Please remember to follow all the rules listed above!
If you've got any questions, feel free to PM or email us.

Have fun making your video!
_________________________________________________________________
I WOULD LIKE TO HAVE TOKIO HOTEL IN MALAYSIA. AGAIN. PLEASE.
Click here to raise your voice & prove that Malaysia loves those TH boys!
Administrator









Similar topics
---
Permissions in this forum:
You
cannot
reply to topics in this forum