TH on Hitz.FM's Rate the Hitz
Sun May 01, 2011 10:36 pm by yindale
Hurricanes and Suns
, which is the most frequently-played TH song on Malaysian radio right now, is listed on "Rate The Hitz"!
What is "Rate The Hitz", you ask? Hitz.FM has lined up some unnamed song snippets, and you get to pick whether you love it or hate it, and how often you'd like to hear it on Hitz. You will even stand a chance to win some cool stuff!
You'll need to sign …
[
Full reading
]
Comments: 0
Tokio Hotel's TV special again !!
Sun Mar 27, 2011 12:13 pm by Tham Carmen
On April 2nd [ next Saturday ] .
There's a
Tokio Hotel TV special
again .
Its on 8TV , and channel 708 for Astro .
So Don't Forget To Watch It !

Comments: 0
8TV Malaysia TV
Fri Mar 25, 2011 11:09 pm by dianahTH
Comments: 0
grab your KLIK March issue
Wed Mar 23, 2011 11:44 pm by dianahTH
Comments: 0
Happy Tokio Hotel International Day 2011!
Sun Mar 06, 2011 6:42 pm by dianahTH
On the
16th of April
everywhere around the globe Tokio Hotel fans will come together to show their love and support for the band: it's the official Tokio Hotel International Day in 2011. In over 50 cities worldwide, events will be held where fans (described by singer Bill Kaulitz as "the best fans in the world") can join together for various activities. One of these events will be held …
[
Full reading
]
Comments: 0
Songwords of Hurricanes and Suns in Feb issue of Galaxie 2011
Sun Feb 20, 2011 1:08 pm by dianahTH
Comments: 4
Info on Humanoid City Tour screening by TH in Malaysia fb page
Thu Feb 17, 2011 8:38 pm by dianahTH

Right..sooo a few months back we suggested doing a screening of Humanoid City Tour concert in the cinema...so now we are going to try and make that happens
but in order to do that...we would really NEED everyone cooperation and support
more info here
…
[
Full reading
]
Comments: 0
a fan action by Tokio Hotel in Malaysia
Thu Jan 27, 2011 8:55 pm by dianahTH
Ok heres the thing, alieNation shoyuko and myself (alieNation_s) are making 2 different videos.
one is with ur message for TH (alieNation shoyuko)
u can either send a pic with u holding a board/or video urself with ur msg..like i love u..or come back soon
things... like phone no.&email will b ignored..or cut out...deadline send by FRIDAY,28 Jan
maximum time is 5 seconds...XD..sorry …
[
Full reading
]
Comments: 2
"Best Of" Deluxe is finally here!
Wed Jan 19, 2011 3:40 pm by yindale
It's a bit late, but the Deluxe version of Tokio Hotel's "Best Of" album is finally available in Malaysia!



I just got a call from Rock Corner, Mid Valley Megamall, where they have
just
received stock of the Deluxe version! They currently have 2 types of Deluxe: locally-produced, and imported from Germany. The local version is priced at 54.90RM and the …
[
Full reading
]
Comments: 19
Who is online?
In total there are
2
users online :: 0 Registered, 0 Hidden and 2 Guests
None
Most users ever online was
172
on Tue Mar 30, 2010 4:32 am

What lovely news! Paul Pitz, who is the great-grandfather of Bill and Tom Kaulitz, turned 100 years old yesterday. The Kaulitz twins called him up from Tokyo, Japan to wish him and congratulate him.

Here's a photo of Paul Pitz (
centre
), seated together with his daughter Ingelore Kaulitz (
left
) and Mayor Rüdiger Koch (
right
):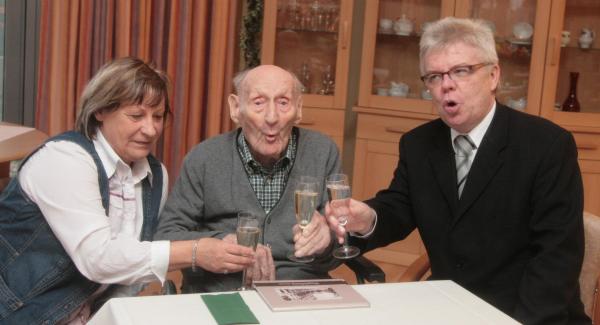 The original article by Volksstimme.de can be found
here
. Or, you can read the loosely-translated version below, courtesy of Google:
Bill and Tom Congratulations grandpa Paul to "100" from Tokyo

Paul Pitz yesterday had every reason to be happy back at full life. Has lasted 100 years - and all who know him want him even as many good years on earth. On 13 Born in December 1910, he saw the Emperor and leader, State Council President and Chancellor. In Samswegen he spent the first years, then grew up by their father in this village south. In 1936 he married Charlotte, the 59 years remained at his side. Paul's beloved wife died in 1995. But they gave him two daughters, who in turn provides two grandchildren and three great-grandchildren.

At the birthday table in the retirement home Hansa Park yesterday it was too lively. Daughter Ingelore Kaulitz was also at his side as Doreen granddaughter or great-grandchildren William Kaulitz Kaulitz (11). His most famous offspring, Bill and Tom Kaulitz came forward in the afternoon by telephone from Tokyo. The now 21-year-old "Tokio Hotel"-Stars are currently in Tokyo - for the first time in her career. They congratulated her great-grandfather probably with a serenade by mobile phone. "I'm very proud of the two guys," says Paul Pitz, which is remarkably vital.

The official congratulations from the Town Hall, Mayor Koch made Rüdiger, Senior bluntly clear that he had actually expected Lutz Truemper, "But oh well, Monday is likely to be a day filled with important dates." A Trümper at his table would have been for Paul Pitz a special touch - after all, has his granddaughter Simone Kaulitz (this is the mother of Bill and Tom) Gordon Trümper recently married - and thus makes the same last name as mayor of Magdeburg.

Perhaps Magdeburg currently have inherited most famous world stars its surge of great-grandfather. Because as a young man was also a high flyer - as a pigeon breeder, he acknowledged the prices as his great-grandson from the same rows. Even as a boxer, cyclist and rider, Paul Pitz claimed. His perseverance and his iron will of the 100-year-old owes even his leg. When he was in World War II, a fragmentation grenade caught, he wanted to box, doctors remove the leg. He resisted stubbornly, pulled the shrapnel out for yourself to build a rail and learned to walk again with an iron will. "Yes, my father was always very tough and athletic," said Inge daughter and smiles gratefully. (Jja)
_________________________________________________________________
I WOULD LIKE TO HAVE TOKIO HOTEL IN MALAYSIA. AGAIN. PLEASE.
Click here to raise your voice & prove that Malaysia loves those TH boys!
Administrator









Similar topics
---
Permissions in this forum:
You
cannot
reply to topics in this forum