TH on Hitz.FM's Rate the Hitz
Sun May 01, 2011 10:36 pm by yindale
Hurricanes and Suns
, which is the most frequently-played TH song on Malaysian radio right now, is listed on "Rate The Hitz"!
What is "Rate The Hitz", you ask? Hitz.FM has lined up some unnamed song snippets, and you get to pick whether you love it or hate it, and how often you'd like to hear it on Hitz. You will even stand a chance to win some cool stuff!
You'll need to sign …
[
Full reading
]
Comments: 0
Tokio Hotel's TV special again !!
Sun Mar 27, 2011 12:13 pm by Tham Carmen
On April 2nd [ next Saturday ] .
There's a
Tokio Hotel TV special
again .
Its on 8TV , and channel 708 for Astro .
So Don't Forget To Watch It !

Comments: 0
8TV Malaysia TV
Fri Mar 25, 2011 11:09 pm by dianahTH
Comments: 0
grab your KLIK March issue
Wed Mar 23, 2011 11:44 pm by dianahTH
Comments: 0
Happy Tokio Hotel International Day 2011!
Sun Mar 06, 2011 6:42 pm by dianahTH
On the
16th of April
everywhere around the globe Tokio Hotel fans will come together to show their love and support for the band: it's the official Tokio Hotel International Day in 2011. In over 50 cities worldwide, events will be held where fans (described by singer Bill Kaulitz as "the best fans in the world") can join together for various activities. One of these events will be held …
[
Full reading
]
Comments: 0
Songwords of Hurricanes and Suns in Feb issue of Galaxie 2011
Sun Feb 20, 2011 1:08 pm by dianahTH
Comments: 4
Info on Humanoid City Tour screening by TH in Malaysia fb page
Thu Feb 17, 2011 8:38 pm by dianahTH

Right..sooo a few months back we suggested doing a screening of Humanoid City Tour concert in the cinema...so now we are going to try and make that happens
but in order to do that...we would really NEED everyone cooperation and support
more info here
…
[
Full reading
]
Comments: 0
a fan action by Tokio Hotel in Malaysia
Thu Jan 27, 2011 8:55 pm by dianahTH
Ok heres the thing, alieNation shoyuko and myself (alieNation_s) are making 2 different videos.
one is with ur message for TH (alieNation shoyuko)
u can either send a pic with u holding a board/or video urself with ur msg..like i love u..or come back soon
things... like phone no.&email will b ignored..or cut out...deadline send by FRIDAY,28 Jan
maximum time is 5 seconds...XD..sorry …
[
Full reading
]
Comments: 2
"Best Of" Deluxe is finally here!
Wed Jan 19, 2011 3:40 pm by yindale
It's a bit late, but the Deluxe version of Tokio Hotel's "Best Of" album is finally available in Malaysia!



I just got a call from Rock Corner, Mid Valley Megamall, where they have
just
received stock of the Deluxe version! They currently have 2 types of Deluxe: locally-produced, and imported from Germany. The local version is priced at 54.90RM and the …
[
Full reading
]
Comments: 19
Who is online?
In total there are
2
users online :: 0 Registered, 0 Hidden and 2 Guests
None
Most users ever online was
172
on Tue Mar 30, 2010 4:32 am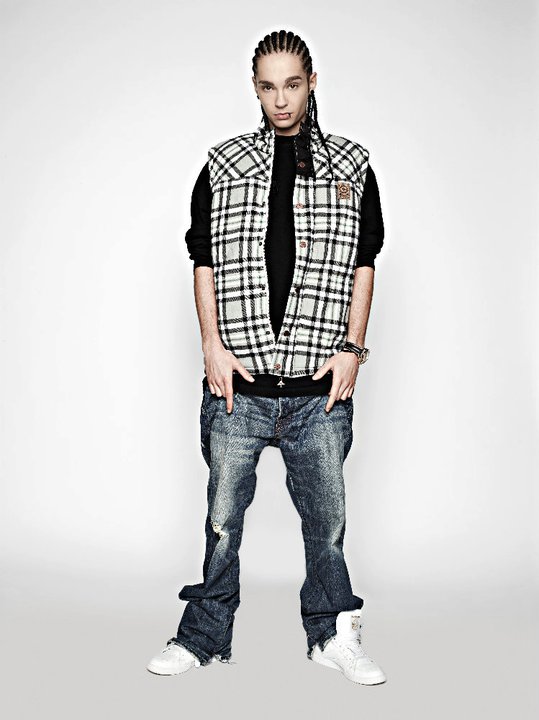 Before Tokio Hotel comes to Japan, we made a phone call to their studio in Hamburger. They are doing the rehearsal for their South America trip.Tom picked up the phone and his voice was so fresh and vigorous as he burst out of the phone.According to their historical popularity in Europe, we thought he would be not as gentle as a gentleman. However, to a big surprise he gave us a pretty good impression.
---Based on the information on the internet, you have been looking for some place to move in recently. Is it because of recording? Or is it temporary?
Tom: Yeah, we are going to move to LA. But we have a new house in Hamburg as well.
---Why? Have you moved to LA already?
Tom: We have been living in Hamburg before, but we decided to move to LA because we are going to cooperate with the producer who lives in LA. Our decision is based on our work, so we decided to move to LA.
---According to the rumors, after you finish recording this new song, four of you want to go back to Germany instead of staying in LA, don't you?
Tom: In fact, Georg and Gustav still live in Magdeburg Germany. Bill and I live in LA. But right now we are in Germany, because we are absorbed in the rehearsal for South America trip.
---Is it okay? You guys are separated from each other. What is the collective wisdom for a group?
Tom: Actually, it is just a little bit troublesome. But we have founded this band for almost 10 years, so there will not be some special problems for us. We can meet in the rehearsal room and do everything for the rehearsal. Just like the very beginning, we practiced and wrote songs together in Germany, then Georg and Gustav come over and we do the rehearsal together.
---I heard of some news that Bill brought all his 4 dogs to LA. Is it real?
Tom: yes, all 4 dogs are in LA
I'm an excellent, handsome and sweet guitarist.
---How is your life in LA? Do you live with Bill?
Tom: Absolutely, we live together.
---Where do you live in LA?
Tom: West Hollywood, it is nice place.
---Do you have many friends in LA?
Tom: We don't have many friends in LA, even in Germany we don't have too many friends.(laugh)
---Is it because you are super stars?
Tom: en, it is one of the reasons, I think. After all we don't live like normal people. But since we were in high school, we do have two or three close friends. If they come to LA, then it is wonderful. We have friends in LA, but because of the work we always come and go from the studio and out home. Our producer lives in LA, so it is amazing, isn't it?
---When you were in Germany, you must have been shadowed by thefts or followers. Maybe your life in LA could be safer and more peaceful.
Tom: yeah, I hope so. It's a reason that we move to LA.
---Your South America trip is the first step entering American market. It is really a good beginning.
Tom: Maybe, I guess out next album will release soon. In 2010, we plan to go to Japan and have some promotional show case. We are looking forward to. We will finish new album after our South America trip, so I think it will take a little bit time. Therefore, it will also take a while to enter American market.
---We know everyone has their own hobbies, by the way, who does the housework at home? Bill? Or does someone help you with that?
Tom: There are some people who help us do the housework, coz the house is too big, it's necessary to hire some to do that. But we sometimes do some housework together as well.
---Tokio Hotel is absolutely super star in Europe. Do you want to take the advantages of your star effects to do some charity work? Or some work like charity?
Tom: Of course, we have done many different kinds of charity work. It has been almost 3 years since Bill and I became vegetarian. In this aspect, even though there is not so many this kind of charity work, we will find some work to do as well.
---You are a vegetarian, but I am a meat lover.(laugh)
Tom: oh, so are Georg and Gustav.
---I like eating meat. I only ate meat in 7 days when I was in Germany. It seems like that German like eating meat.
Tom: Although I am a vegetarian and I don't eat meat, but I have to eat healthy food otherwise I have no strength at all. In the past, I like eating fast food such as cheeseburgers and hotdogs.
---Tom, would you mind telling me your personality?
Tom: It is a tough question. You'd better ask Bill. In my mind, I am a brilliant lovely beautiful guitarist. And I am also very kind. Bill and I are both Virgos, so I am a perfectionist. Sometimes, on this aspect I am like sort of freak, so I may cause troubles.
---When Bill and you are together, what do you talk about?
Tom: You mean when we are together? We decide everything together, no matter what. When we are lying on the bed, we still discuss what to choose between ice coffee and hot coffee, or which color is better for the floor of the rehearsal room, or which song do we play or how to play in the show. We share everything with each other.
---You have a studio at home in Hamburg, will you have one in LA?
Tom: Because we just moved, some furniture will be delivered in 2 or 3 weeks. The house in Hamburg is empty. Coz the house in LA is so big that I think…
---Do you plan to build a studio room in which you can make an album by yourself?
Tom: yes, I believe we are going to build one though it takes a lot of money.
---Then you can make your own music that you like anytime.
Tom: sure, we have been doing so when we were in Hamburg. We can write songs as we record, and then we can do the recording officially in producer's studio. So we have to make a decision. Shall we spend lots of money to build our own studio in our house or find some other studio to help us with recording?
---Is the producer David Jost?
Tom: Daivd Jost and Dave Roth。
---Are you going to cooperate with these two people for the next album?
Tom: I think so. Except them, we will invite some other producers and song-writers to join us. Coz we want to do something special and fresh, but I don't know too much about the next album. We don't make plans. As long as we haven't started writing, we don't know what is going to happen next.
---Did you sing a song in Japanese 3 or 4 years ago, right?
Tom: yeah, it's "Durch den Monsun".
---Will you sing in Japanese again?
Tom: I don't know yet. Bill is responsible for this. But as for Bill, it's really difficult for him to sing in Japanese. And except English and German, we are too lazy to learn other foreign languages. So we need help when we do the recording. Although we had a good time when we recorded the "Durch den Monsun" Japanese version, it is really hard. Oh, you heard that one, didn't you? Can you understand what we sung?
---In fact, I just read some relating information, I haven't listened. But I promise you if you sing in Japanese when you come to Japan this time, I will tell you how well you sing.
Tom: Ok, then.
---Next question is a basic one. Why do you name your band "Tokio Hotel"?
Tom: The original name is "Devilish".
---Yeah, I know that, it's a cool name.
Tom: Sure, it is a pretty cool name. we want a cooler one. So we decided to be under name"Tokio" after discussion.Tokyo sounds more beautiful than Berlin. However we have never been there before. To some extent, the name of our band symbolizes the final goal for us. And our next destination is Tokyo. We are going to play live.
---What do you know about Tokyo or Japan?
Tom: I have no idea. Some people told me that Japan is a colorful world, so we really want to experience by ourselves. Actually there is no specific image of Tokyo in my mind. I think it will be a big surprise.
---Tom, do you have something that you want to do in Japan? Do you have something to say to your fans?
Tom: Sure. I really appreciate that you are so surportive all the time. We are looking forward to going to Japan and meet all you guys on the live concert and show case. This is our first time to go to Japan, so we are so excited. We are longing for seeing the streets, tasting Japanese food and so on. We can not wait any more.
Moderator









Similar topics
---
Permissions in this forum:
You
cannot
reply to topics in this forum