TH on Hitz.FM's Rate the Hitz
Sun May 01, 2011 10:36 pm by yindale
Hurricanes and Suns
, which is the most frequently-played TH song on Malaysian radio right now, is listed on "Rate The Hitz"!
What is "Rate The Hitz", you ask? Hitz.FM has lined up some unnamed song snippets, and you get to pick whether you love it or hate it, and how often you'd like to hear it on Hitz. You will even stand a chance to win some cool stuff!
You'll need to sign …
[
Full reading
]
Comments: 0
Tokio Hotel's TV special again !!
Sun Mar 27, 2011 12:13 pm by Tham Carmen
On April 2nd [ next Saturday ] .
There's a
Tokio Hotel TV special
again .
Its on 8TV , and channel 708 for Astro .
So Don't Forget To Watch It !

Comments: 0
8TV Malaysia TV
Fri Mar 25, 2011 11:09 pm by dianahTH
Comments: 0
grab your KLIK March issue
Wed Mar 23, 2011 11:44 pm by dianahTH
Comments: 0
Happy Tokio Hotel International Day 2011!
Sun Mar 06, 2011 6:42 pm by dianahTH
On the
16th of April
everywhere around the globe Tokio Hotel fans will come together to show their love and support for the band: it's the official Tokio Hotel International Day in 2011. In over 50 cities worldwide, events will be held where fans (described by singer Bill Kaulitz as "the best fans in the world") can join together for various activities. One of these events will be held …
[
Full reading
]
Comments: 0
Songwords of Hurricanes and Suns in Feb issue of Galaxie 2011
Sun Feb 20, 2011 1:08 pm by dianahTH
Comments: 4
Info on Humanoid City Tour screening by TH in Malaysia fb page
Thu Feb 17, 2011 8:38 pm by dianahTH

Right..sooo a few months back we suggested doing a screening of Humanoid City Tour concert in the cinema...so now we are going to try and make that happens
but in order to do that...we would really NEED everyone cooperation and support
more info here
…
[
Full reading
]
Comments: 0
a fan action by Tokio Hotel in Malaysia
Thu Jan 27, 2011 8:55 pm by dianahTH
Ok heres the thing, alieNation shoyuko and myself (alieNation_s) are making 2 different videos.
one is with ur message for TH (alieNation shoyuko)
u can either send a pic with u holding a board/or video urself with ur msg..like i love u..or come back soon
things... like phone no.&email will b ignored..or cut out...deadline send by FRIDAY,28 Jan
maximum time is 5 seconds...XD..sorry …
[
Full reading
]
Comments: 2
"Best Of" Deluxe is finally here!
Wed Jan 19, 2011 3:40 pm by yindale
It's a bit late, but the Deluxe version of Tokio Hotel's "Best Of" album is finally available in Malaysia!



I just got a call from Rock Corner, Mid Valley Megamall, where they have
just
received stock of the Deluxe version! They currently have 2 types of Deluxe: locally-produced, and imported from Germany. The local version is priced at 54.90RM and the …
[
Full reading
]
Comments: 19
Who is online?
In total there are
2
users online :: 0 Registered, 0 Hidden and 2 Guests
None
Most users ever online was
172
on Tue Mar 30, 2010 4:32 am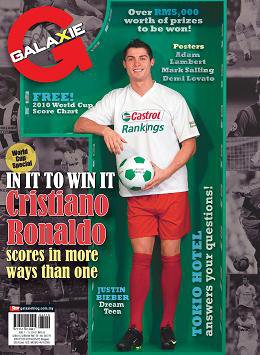 This is a bit late, but better late than never!
Tokio Hotel are mentioned FOUR times in the latest Galaxie magazine! Plus they're mentioned on the front cover! Here are the articles and scans.

Click to enlarge!



Contents Page:
29 – Tokio Hotel
The rockers from Germany answer your Twitter and Facebook queries

"We can't believe we are in Asia. It's so crazy and cool to discover we have fans here. We never expected our music to reach so far but when you fly around the world and see fans singing along to your songs – that's the dream of every band." – Bill Kaulitz
Snapshots, page 22:
Star Sighting in Malaysia
Caption: The boys from Tokio Hotel inspect the souvenirs at the press conference prior to their performance at One Utama, Petaling Jaya.
Feature, Page 29:
Tokio Hotel Fanfare
Interview by Geraldine Jeremiah

If I weren't a fan before meeting Tokio Hotel, I certainly am one now. There is absolutely everything to like about them. Their music is out of this world, they are larger than life showmen onstage and in person, they are the coolest, funniest guys you could have the pleasure of hanging out with. The best perk though about being a Tokio Hotel fan is the guys absolutely treasure you.

During Galaxie's 15-minute interview with Tokio Hotel on their visit here in Malaysia, it was impossible to get straight answers from Bill and Tom Kaulitz, George Listing and Gustav Schafer.

However, when it comes to matters of their fans, the guys are dead serious.

Which is why, Tokio Hotel were absolutely thrilled to receive your questions asked via Twitter and Facebook. Be advised though that it was hard to keep a straight face at some of their anwers.

Since quite a number of questions on our list concerned Bill's hair, we decided to go with that first.

Bill, can you explain why there is a worldwide obsession with your hair?
I don't know. I just like to experiment and try new things out with my hair. Before this, I had dreadlocks.

Bill, have you tried to convince the rest of the guys to do hair makeovers?
Bill: I hope they would, but …
Tom, George, Gustav: No! Never, ever.

Tokio Hotel, since you guys are clearly "living the dream" are there any dreams that you haven't fulfilled?
Bill: One of our dreams as a band that we really wish for is to go to Tokyo. We've never been there yet. A Grammy award would also be nice.

Tom, what's the reason you won't get a tattoo?
Tom: I don't know. I've thought about it.
Bill: He's afraid. He's scared to get a tattoo.

Bill, if you had your own fashion collection what kind of clothes would it include?
Bill: I can't decide if it will be the stuff I wear or something completely different. But I do know that I really want to do something in the future that involves a collection because I love to design and be creative when it comes to fashion.

Is George still messing up his chords?
Tom: (joking) He can't play good bass.
George: That's not true.
Tom: I don't know why because I taught Gustav the drums and he plays really well but I can't seem to teach George. He is not talented. I think that is the main problem.
George: That's not true, that's not true.

Tokio Hotel, what are you going to do with all your stage costumes and The Dogs Unleashed motorbike once the tour wraps?
Bill: That's going to be interesting when the time comes because my closets at home are already full. I have no place to put them! The motorbike, we thought of putting in the garden.

Bill, have you ever gone public without your makeup?
When I'm on vacation or travelling I don't usually have makeup on and that's not really a problem for me. But then again, I also feel more like myself when I do.

Bill and Tom, you've mentioned being "more than twins." What does this mean?
Tom: We are identical twins and the connection between us is very strong. We are like soulmates as well. I know what he is thinking the second he thinks it.
Bill: I guess you could say we are almost like one person.

George and Gustav, what is it like working with Tom and Bill?
Bill: I think it is an honour for them to be working with us.
George: Sometimes it is a little bit annoying because they talk the whole day. But, we have been a band for 10 years and we feel more like brothers.

Tokio Hotel, what do you think of Asian girls?
Tom: Really good! We were in Singapore and we saw some fans, and a lot of them are very beautiful girls. And it's the same when we arrived in Malaysia. All good, really good.
George: Tom is very happy.
Page 54:
MUSIC PERFORMANCE
Review by JC Lam

TOKIO HOTEL LIVE IN MALAYSIA
1 May 2010
Central Park Avenue,
1 Utama, Petaling Jaya.
6.00 pm

Blitzkrieg Bop

It had been a long day for those who had waited under the scorching afternoon sun just to get a good spot in front of the stage. But even when the clouds turned dark in typical Malaysian fashion, no one was willing to leave their spots in front of the new wing of One Utama. They weren't moving for anything!

But then at 9.15pm, when the stage lights finally dimmed and the music, that had kept them entertained while waiting, died, the dead-tired fans found new life in their limbs. You didn't have to be a genius to know what was coming next!

First, Gustav Schäfer took up his position behind the drums. Next came Georg Listing and Tom Kaulitz. And then, the one and only Bill Kaulitz, dressed from head to toe in black and sporting freakishly tight trousers!

Without uttering a word to their fans, the band kicked things off immediately with Noise, a song that, well, managed to generate a whole lotta noise from the thousands who'd come to watch Tokio Hotel.

The band quickly moved into another tune and it wasn't until after their third song that Bill finally spoke to the crowd.

For a German guy from the suburbs, Bill's command of English isn't all that bad really. Meaning to say, you could understand him, whether he was singing or interacting with the crowd. Yes, the interaction was limited to things like "thank you everyone" and "feels good to be in Malaysia", yet you could tell that he and the band were really making an effort to connect with TH's Malaysian fans.

After their fourth song, Point Of Love, the four members of Tokio Hotel stepped off the stage, only to reappear minutes later with World Behind My Wall, which got the crowd screaming some more and singing along.

The band then moved into hits Ready, Set, Go!, Automatic and Forever Now. And Bill's vocals were pitch-perfect throughout, regardless of how much he moved onstage. Amazingly too, his hair retained its spikiness and his makeup showed no signs of running.

Finally, after an hour and 11 songs, TH waved goodbye and walked offstage. The crowd, however, wanted more and after consistent chants of "encore", Gustav, Georg, Tom and Bill came back out and obliged with Monsoon. Surprisingly though, the band played the original German version of that song.

Before leaving the stage for the final time, Bill spoke to the crowd one last time. "Thank you everyone. See you next time!" he said, hinting that the band could be coming back to our shores soon. And if you think that's just a standard line used by all frontmen, word has it that TH coming back is a real possibility. According to the event's organizer, "Tokio Hotel will be back in Malaysia" as they are "doing something with MTV" sometime soon. Let's all keep our fingers crossed then.
Galaxie is a fortnightly magazine that is available at all leading newsstands nationwide. Get it at 5.00RM, or 7.00RM if you live in Sabah or Sarawak. Check out their blog
here
and follow them on Twitter
here
!
_________________________________________________________________
I WOULD LIKE TO HAVE TOKIO HOTEL IN MALAYSIA. AGAIN. PLEASE.
Click here to raise your voice & prove that Malaysia loves those TH boys!
Administrator








---
Permissions in this forum:
You
cannot
reply to topics in this forum