TH on Hitz.FM's Rate the Hitz
Sun May 01, 2011 10:36 pm by yindale
Hurricanes and Suns
, which is the most frequently-played TH song on Malaysian radio right now, is listed on "Rate The Hitz"!
What is "Rate The Hitz", you ask? Hitz.FM has lined up some unnamed song snippets, and you get to pick whether you love it or hate it, and how often you'd like to hear it on Hitz. You will even stand a chance to win some cool stuff!
You'll need to sign …
[
Full reading
]
Comments: 0
Tokio Hotel's TV special again !!
Sun Mar 27, 2011 12:13 pm by Tham Carmen
On April 2nd [ next Saturday ] .
There's a
Tokio Hotel TV special
again .
Its on 8TV , and channel 708 for Astro .
So Don't Forget To Watch It !

Comments: 0
8TV Malaysia TV
Fri Mar 25, 2011 11:09 pm by dianahTH
Comments: 0
grab your KLIK March issue
Wed Mar 23, 2011 11:44 pm by dianahTH
Comments: 0
Happy Tokio Hotel International Day 2011!
Sun Mar 06, 2011 6:42 pm by dianahTH
On the
16th of April
everywhere around the globe Tokio Hotel fans will come together to show their love and support for the band: it's the official Tokio Hotel International Day in 2011. In over 50 cities worldwide, events will be held where fans (described by singer Bill Kaulitz as "the best fans in the world") can join together for various activities. One of these events will be held …
[
Full reading
]
Comments: 0
Songwords of Hurricanes and Suns in Feb issue of Galaxie 2011
Sun Feb 20, 2011 1:08 pm by dianahTH
Comments: 4
Info on Humanoid City Tour screening by TH in Malaysia fb page
Thu Feb 17, 2011 8:38 pm by dianahTH

Right..sooo a few months back we suggested doing a screening of Humanoid City Tour concert in the cinema...so now we are going to try and make that happens
but in order to do that...we would really NEED everyone cooperation and support
more info here
…
[
Full reading
]
Comments: 0
a fan action by Tokio Hotel in Malaysia
Thu Jan 27, 2011 8:55 pm by dianahTH
Ok heres the thing, alieNation shoyuko and myself (alieNation_s) are making 2 different videos.
one is with ur message for TH (alieNation shoyuko)
u can either send a pic with u holding a board/or video urself with ur msg..like i love u..or come back soon
things... like phone no.&email will b ignored..or cut out...deadline send by FRIDAY,28 Jan
maximum time is 5 seconds...XD..sorry …
[
Full reading
]
Comments: 2
"Best Of" Deluxe is finally here!
Wed Jan 19, 2011 3:40 pm by yindale
It's a bit late, but the Deluxe version of Tokio Hotel's "Best Of" album is finally available in Malaysia!



I just got a call from Rock Corner, Mid Valley Megamall, where they have
just
received stock of the Deluxe version! They currently have 2 types of Deluxe: locally-produced, and imported from Germany. The local version is priced at 54.90RM and the …
[
Full reading
]
Comments: 19
Who is online?
In total there are
2
users online :: 0 Registered, 0 Hidden and 2 Guests
None
Most users ever online was
172
on Tue Mar 30, 2010 4:32 am

New Strait Times
Friday, May 7, 2010
Life & Times | Showbiz
NO PRIVACY FOR TOKIO HOTEL
| It's all about the band. Members of German Group Tokio Hotel tell
Syida Lista Amirul Hisan
it's impossible to have a private life
"SO what's your favourite hotel in Tokyo?" The current hottest German band Tokio Hotel was asked this at a roundtable interview.
"Actually, we haven't been to Tokyo," says its lead singer Bill Kaulitz. "But we hope to go there this year." The band, made up of Bill, his identical twin Tom (guitar), bassist Georg Listing and drummer Gustav Schafer, would surely fit right in with the stylish young crowd in the Japanese capital.
Here's why. Tall and skinny, Bill wears his signature spiky hair ("I use a can of hair spray a day") with skinny jeans and silver jewellery. Tom's hip-hop look is complemented with dreadlocks and Georg's mane looks like he just came out of the hair salon after a re-bonding session.
And don't forget Bill's liberal use of dark eyeliner and eye shadow that makes Adam Lambert look as conventional as Kris Allen.
"We are on tour 340 days a year and we don't have much time for anything else," says Tom. "In fact we've given up everything. Now, it's all about the band." Tokio Hotel has gone 10 times platinum, scored four No. 1 singles and sold out arenas and stadiums across Europe recently. With the massive popularity the band is enjoying, the members say it's impossible to keep their lives private.
"We tried to do that but as we became more popular, it became harder," says Bill. "Thank God we don't have private lives," his brother interjects.
Tokio Hotel was in town for a showcase at Park Avenue in 1Utama, Petaling Jaya, its first visit to the country. Its latest album, Humanoid, with hits such as Automatic and World Behind My Wall, was recorded in German and English.
"Humanoid is like the soundtrack of our lives. There are more instruments like keyboards to add to the original Tokio Hotel sound. The stories in the songs may or may not be ours but we sing of real happenings," says Bill. The song Automatic, for example, talks about automated life — doors opening and closing, shifting gears in a car, a camera lens — but the mechanical qualities should not be part of human emotions like love, which has to be spontaneous and genuine.
"We've always felt like humanoids, like aliens on the fourth planet," reveals Bill, saying that as kids, he and Tom were different from their classmates. They wanted to break out and did it with music, fooling around with guitars at age seven.
Eight years later, their first single was released and their 2008 album, Scream, which had some of their favourite tunes from their two German albums recorded in English, introduced the band to a legion of English-speaking fans.
"The most challenging process was recording in two languages. Our English wasn't that good to start with and I wanted to sound like a native speaker, not like a German trying very hard to speak English. But it became much easier with Humanoid," says Bill.
So do the brothers fight? "Yes, we do. All the time!" came the spontaneous answer. And suddenly one cannot help but think of Noel and Liam Gallagher of British outfit Oasis, who were so at loggerheads that it broke the band.
"No, that will never happen with us. We are identical twins and we have had our biggest fights and survived." Spectacular showcase TOKIO Hotel fans, mostly in their teens, thronged 1Utama's Central Park Avenue, Petaling Jaya. The rain did not put a damper on the concert. There were a few fans from Hong Kong, Singapore and Thailand at the free-stand concert. Before the group came on, a boy had fainted from the pushing and shoving in the crowd, which was packed like sardines. Several could not stand too long and asked for seats.
Hitz.fm deejay Jin warmed up the crowd before introducing the first opening act, rock indie group Pop Shuvit, who performed the songs Oh! Shizuka, Jump and Mara Bahaya. Then there was award-winning band Bunkface with Situasi, Extravaganza, Revolusi, Prom Queen and lastly, the Telekom Malaysia theme song Melalui Tingkapku (Through My Window). After Bunkface came a long wait before Tokio Hotel came on. While the production crew set up the musical instruments, the audience was entertained by a deejay who played several hit songs to which the crowd sang along to. But after one song too many, everyone's patience was wearing thin. A loud "boo" was heard, followed by two more songs.
The wait for Tokio Hotel was totally worth it because the band gave a spectacular performance with Noise, Human Connect To Human, Pain Of Love and a crowd favourite, World Behind My Wall.
Many rock band vocalists insert a certain raw strain in their voices to emphasise the rock sound. Bill Kaulitz's tone, however, was devoid of that, even for the high notes, and that always wins the fans' hearts. The band continued to rock non-stop. The crowd sang along while jumping in the spot.
Tokio Hotel also performed Hey You, Ready Set Go, Dogs Unleashed, Screamin' and another crowd favourite, Automatic. After the "last" song for the night, Forever Now, the band performed its German song Durch Den Monsun (Through The Monsoon) for an encore. The audience was more familiar with the English version of the song and could only cheer along.
Tokio Hotel promised to come back and hopefully, it would be at a bigger and more comfortable venue.
---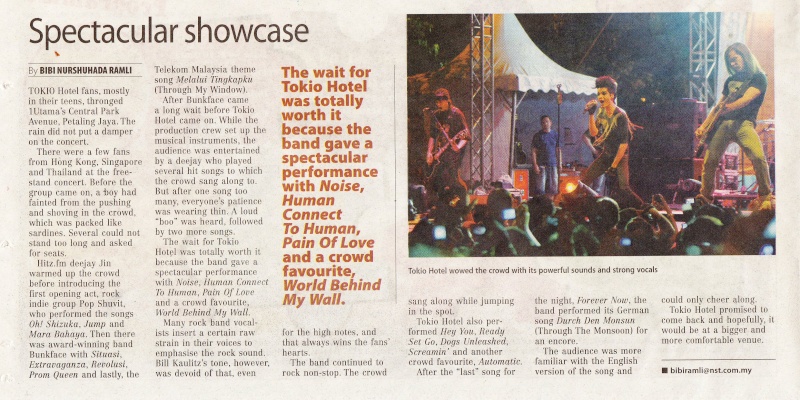 Just in case you want the actual size one for better reading:
https://i.servimg.com/u/f65/14/55/53/29/img12.jpg
Can't wait for their comeback !!! xD
_________________________________________________________________
Moderator







I like this.

Wish I had the actual thing... Thanks for posting!
_________________________________________________________________
I WOULD LIKE TO HAVE TOKIO HOTEL IN MALAYSIA. AGAIN. PLEASE.
Click here to raise your voice & prove that Malaysia loves those TH boys!
Administrator









Similar topics
---
Permissions in this forum:
You
cannot
reply to topics in this forum